Anywhere
December 13, 2021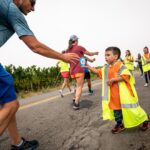 Website https://www.instagram.com/napa2sonomahalf/ Napa 2 Sonoma Half Marathon
Motiv is an active lifestyle and entertainment company
The Napa to Sonoma Half Marathon and Rose 5k will host 5,000 runners on December 11 + 12, 2021 with an expo, Saturday 5k, and Sunday Half Marathon. Volunteers are an integral part of this event and provide great support for participants. Volunteers are needed throughout race weekend at the dates and times below:
Volunteer Areas:
Registration – bib pickup, on-site registration, info tent, award distribution
T-shirt Distribution
Start Line – assisting with start corrals, information tent, directions
Finish Line – giving out medals, water, refreshments
Water Stations – providing water and electrolyte to runner
Saturday, December 11 – Expo and 5K:
Registration/Award OpportunitiesShift #1: 5:30am – 9:30am
Shift #2: 9:00am – 1:30pm
Shift #3: 12:30pm – 5:00pm
Expo/T-Shirt DistributionShift #1: 5:30am – 9:30am
Shift #2: 9:00am – 1:30pm
Shift #3: 12:30pm – 5:00pm
5K Shift: 7:00 am – 10:00 am
Sunday, December 12 – Start/Finish Line:
Start Shift: 5:00am – 8:00am
Finish Shift: 8:00am – 12:00pm
If you are a group or club looking to raise money, then this volunteer opportunity is for you! For each volunteer shift filled, Motiv Running will donate $50 to your organization. Your organization has the opportunity to raise thousands of dollars for your needs.