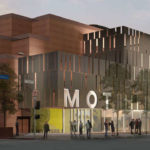 Website Museum Of Tolerance
In a challenging and complex world, the Museum of Tolerance is seeking enthusiastic volunteers to become part of our team to spread tolerance and pursue social justice. This a challenge that spans a lifetime and bridges generations.
The Museum of Tolerance offers specialized programs tailored to the needs of both students and adults. We are seeking interested individuals who would like to volunteer as Tour Guides and Exhibit Assistants. Please visit our website to learn more!
The teen program is for high school students grades 7-12. It includes: Independent Museum Exploration and Education Journal; Volunteering as a Teen Docent; a community service/social justice project.
Applications are being accepted throughout the year.
Fulfills community service requirements
One year commitment required
Minimum 50 volunteer hours per year