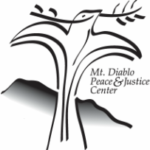 Website Mt. Diablo Peace and Justice Center
The Mt. Diablo Peace & Justice Center has internship/volunteer opportunities for community members and students alike. Our mission as an organization is to work for a culture of peace through education, advocacy, and community building. The volunteer will assist with the daily duties of the Executive Director and assist with the planning/organizing of the programs currently underway: our annual educators conference in Spring, our annual Art & Writing Challenge for High School/Middle School students, as well as our monthly forum series, which features prominent authors, activists, and educators from the community.
Volunteers will also have the opportunity to research and submit articles to our bi-monthly Peace Gazette, which includes editorials, discussion of past actions, and information/organizing information about upcoming activities.
In 2019, the Peace Center celebrated its 50th Anniversary as an organization! As we take time to commemorate the legacy of the Center, we are also eager to look towards the future to continue to build and expand our mission. We want the voices and perspectives of the community to lead us into our next fifty years and are seeking dedicated individuals who can help us realize our visions. We are seeking detail-oriented folks who are passionate about progressive action in the community. We also have open positions on our board of directors!