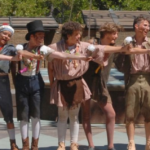 Website Mountain Play Association
Every spring we look for up to 80 volunteers per show, which means we need over 480 volunteers every year! We will start looking for next years volunteers in February 2021.
On our website you'll find all of the volunteer position descriptions . Please read through them carefully to find the best location for you.
You need to fill out an application for every volunteer, in order to volunteer. Each volunteer, regardless of age, must submit an application. Parents, teams and groups need to fill out a separate application for everyone in their party.
General Volunteer Guidelines
Please arrive ½ hour earlier than your start time to check in with the Community Engagement Coordinator at the front gate, get your t-shirt, secure your seats in the theatre, and get trained by your station leader.
There will be a volunteer shuttle pick up at Tamalpais High School at 8 a.m. and then at 8:30 a.m. The ride up should take 30-45 minutes. If you start earlier than the shuttle arrives, please plan accordingly. There's free parking available at the Rock Springs Parking Lot for volunteers before 9 a.m.
Bring a lunch and a water bottle (or money to purchase food and drink). Wear layers and be prepared with outdoor appropriate clothing and a good pair of walking shoes.
Duration of each volunteer post will vary from five to eight hours.
If you have any questions, please email Volunteer@MountainPlay.org