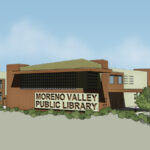 Website Moreno Valley Public Library
The Moreno Valley Public Library is actively seeking volunteer-tutors for our new after-school Homework Helper Program to provide an invaluable service to the academically struggling youth of Moreno Valley. The Homework Helper Program is an after-school program in which volunteers will assist students up to grade 6 with homework assignments, and achieving academic goals. As a volunteer-tutor, you will receive training covering all aspects of aiding students develop confidence in their abilities.
Selected volunteer-tutors will be scheduled to come in twice a week for a total of four hours a week in the Children's section at Moreno Valley Public Library. There is no educational requirement to be a volunteer-tutor in the Library's Homework Helper Program. However, a strong understanding of reading, writing, and mathematics up to grade 6 and experience with children between the ages of 6 to 12 is recommended. A general arithmetic and english test will be administered to all participants. A passing grade of 90% or higher is required for further processing.
All volunteer-tutors over the age of 18 must pass a background check with the City of Moreno Valley. Candidates under the age of 18 must complete 20 hours of general library volunteering before being accepted into Homework Helper program.
As a result of COVID-19, the City of Moreno Valley has currently halted its processing of volunteer applications. All new inquiries will be placed on a waiting list until the City begins to process new volunteer applicants.
Requirements:
Must be 16
Training/Orientation
Volunteers must come in twice a week, and commit to at least 20 hours (roughly two weeks) of service.