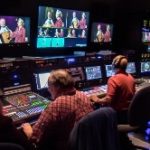 Website MidPen Media Center
Our public access station gives a voice to local producers who want to make their own TV show. The crew for these shows are all volunteers, who we rely on to operate cameras, direct, set up graphics, run the audio board, and more! A great way to promote local issues that you are passionate about, we are a voice for everyone.
Volunteers need to be trained on our equipment, so that they can use it safely, but once they do, they can volunteer as often as they want!