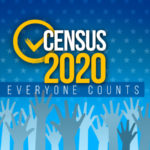 Metropolitan YMCA
The 2020 Census is here and the LA Y seeks to partner with you virtually to be on the vanguard of ensuring that everyone is counted! The LA Y is unveiling the Census Ambassador teen online program which will be a unique experience with training and key benefits to support youth like you. With your participation in this program, not only will you have access to important incentives, but you will be making a real difference in your communities. Check out the program, its benefits, fill out the application, and join our efforts to ensure that all of our communities are counted.
This decennial, constitutionally mandated effort is about having fair representation the redrawing of congressional and state legislative districts. It's also about ensuring our communities get their fair share of funding – $675 Billion. Census data determines how more than billions are allocated to support your state, county, community's vital programs.
Through your participation in this program you will be eligible for:
• YMCA Certificate of Recognition
• Volunteer Service Hours
• Letter of Recommendation
• Prizes such as sports partner products or tickets, headphones, backpacks, water bottles, etc. (subject to availability)
What your project will include:
• watch the training video on ymcaLA.org/Census 2020 & familiarize yourself with the resources on WeCountLA.org
• create content (art/graphics/videos/songs/live event/blog post/etc.) to reach your networks (friends, families, neighbors, etc.) about the importance of the Census
• tag @YTeensLA on Instagram for all of your social media posts
• track the number of people you are able to reach
• contact us for to brainstorm ideas and if you have any questions!
Duties and Responsibilities
-Assist in managing data collection – keep a tracking sheet for presentations and collateral material disseminated to document outreach and engagement efforts.
-Be familiar with the mission and goals of the Census 2020 – Census Youth Ambassadors will be trained to answer Census-related questions.
-Carry out strategic outreach initiatives for the success of the Association's Census engagement of hard to count (HTC) communities
-Identify nonprofit organizations, school, churches, community groups, etc. that we can partner with to provide Census outreach and education.
-Facilitate conversations with community and respond to queries through community forums and/or presentations across our branches in the HTC communities, and corresponding events throughout the YMCA of Metropolitan Los Angeles.
Taking part is our civic duty – completing the census is required and we cannot do it without your support! After you sign up, get started at ymcaLA.org/Census 2020.