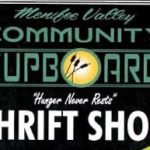 Website Menifee Valley Community Cupboard Thrift Store
Your Menifee Thrift Store and Community Cupboard will always be on the lookout for dynamic and friendly people to help provide great customer service and an outstanding experience in our store.  Each volunteer is trained to have knowledge of each area of the facility. Volunteering with us will be a rewarding experience!
These special opportunities are available for adults that want to give back to their community. We encourage students in high school, college and graduate student levels for which they may receive credits towards their academic units, however, you must volunteer with an adult if you are under the age of 18.
Our thrift store and community cupboard are valuable resources for the surrounding neighborhoods so help us build and maintain good relationships with our community.