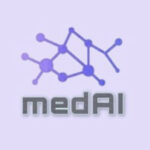 Website MedAI
The Growing Intersection Between Healthcare and Computer Science
Learn more about the growing intersection of Healthcare and Computer Science! The uses of Artificial Intelligence (AI) are immense: from surgery to aiding in racial injustice. Each week, we will explore different careers in the fields, provide advice on how to gain experience, and even have live Q&A sessions with professionals in the industry. Our daily articles cover a wide spectrum of topics: CRISPR, Drug Development, Neural Networks, Natural Language Processing, Neuralink, The Moderna Vaccine, Ethical Dilemmas and more! We also host AI/Research workshops and pitch competitions.
Join our team and help make an impact!
Current positions include:
Media Management: Assist in managing our Instagram, Twitter, or LinkedIn pages. Collaborate with other social media managers and marketers to strategize effective ways to display content on various platforms. Additionally, should help to maintain and improve the website.
Research: Writers are tasked with writing 2-3 articles/posts a week pertaining to a variety of topics in STEM ranging from new innovations in fields of interest to advice on how to get involved.
Graphic Design: Create visually appealing posts that help to engage and entertain viewers. Display a sense of enjoyment for art while also creatively expressing concepts simplistically to engage viewers.
Ambassador: Reposting and engaging with our content, promoting our organization to others, building our connections with other related organizations/professionals in your community, and encouraging people to participate in our events/fundraisers.Community Service Hours and Leadership Roles Are Offered
For details about this opportunity, visit bit.ly.