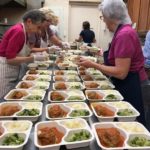 Website Meals On Wheels West
Delivering more than a meal.
Volunteers are needed to deliver a hot lunch, light dinner, newspaper, and a Wellness Check every Monday – Friday morning to homebound people in Santa Monica, Pacific Palisades, and Malibu. Volunteers are often the only people clients of this organization see on a daily or even weekly basis. Volunteers will start at the Meals on Wheels West's Santa Monica location to pick up the meals and will receive one route, which consists of about 10 clients.
The Volunteer Coordinator will be on site to help with any questions that may come up. Volunteers can deliver in teams with friends, family or other volunteers or by themselves depending on their preference. The firsttime you volunteer you will deliver with a veteran volunteer to guide you through the process.
There is a volunteer community space at the Santa Monica office with board games, music and snacks so feel free to come early and stay later if you would like!
Once the meals are picked up at the Santa Monica location, volunteers drive their cars to the houses of each client on their route. Routes are designed to optimize travel time. If you have a limited amount of time, then the Volunteer Coordinator can assign you or your team to a smaller route.
After all of the clients on the route you received have their meals for the day, volunteers return to the Santa Monica location to drop off the bags and give any last comments to the Volunteer Coordinator.