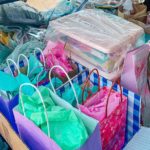 Meals on Wheels San Diego County
All hand-written cards should not be sealed, for sanitary purposes.
For every holiday, birthday and times of need, Meals on Wheels and our community of generous volunteers deliver a special gift bag to our seniors to say, "We Care." Often coupled with personal notes from the individuals who created the packages, it is a sure way to brighten someone's day.
After assembling We Care Packages, please deliver them to any of our service centers listed below.
METRO SAN DIEGO SERVICE CENTER
2254 San Diego Avenue, Suite 100
San Diego, CA 92110
Phone: (619) 295-9501
Manager: Willy Gloria
EAST COUNTY SERVICE CENTER
131 Chambers Street, Suite 100
El Cajon, California 92020
Phone: (619) 447-8782
Manager: Tim Ray
SOUTH COUNTY SERVICE CENTER
270 F. Street
Chula Vista, CA 91910
Phone: (619) 420-2782
Manager: Chequita Falls
NORTH COUNTY SERVICE CENTER
930 Boardwalk Street, Unit C
San Marcos, CA 92078
Phone: (760) 736-9900
Manager: Charlotte Fan
DOWNLOAD THE WE CARE PACKAGE ITEM LIST: https://www.meals-on-wheels.org/sites/meals-on-wheels.org/files/Give%20a%20We-Care%20Pacakage%20updated%21.pdf
If you would like to simply compose hand-written cards for our San Diego County seniors, please drop them off to any San Diego County service center.*
*Please exclude religious and/or political material or messages.