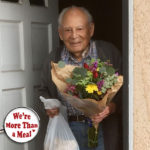 Website Meals on Wheels Long Beach
Dedicated to the in-home nutrition of the ill, disabled and elde
Do you have a extra time in the morning and want to give back to your community? Help deliver and or pack meals with Meals on Wheels Long Beach.
Packing: 8am to 10am
Drivers: 10:30am to 12:30pm (must have drivers license, insurance and at least 18years old)
Friendly Visitors 10:30am-12:30pm (must be 18 unless accompanied by a parent or guardian)
Groups are also welcome!