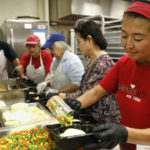 Website Mama's Kitchen
YES, we still need volunteers. Mama's Kitchen is recognized by the County as an "essential business" and will continue to operate during California's "shelter in place" order, with additional safety practices. Under direction from the County, volunteers are also deemed "essential" and allowed to continue working with us.
We will be operating with exceptionally lean volunteers to do our part to ensure safety and minimize the impact of the COVID-19 crisis. We are currently ONLY looking for volunteer drivers and backup kitchen and staging volunteers. In the uncertain times, we want to continue to build our list of available active and backup volunteers.