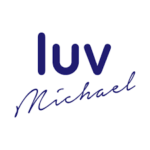 Website Luv Michael
Luv Michael has created a new category for virtual charitable fundraising based on a
platform of Cooperative-Donation. The participants are called Luv Michael Virtual
Volunteers. The basic premise of the program involves individuals and or organizations
helping raise awareness of the Adult Autism community as they fundraise and support
Luv Michael's mission.
The program highlights:
● Completely virtual. 100% online
● No cost to the organization
● 50% of all donations can support another organization.
● No product to handle
● Virtual Volunteers earn community service hours
● Supports Adult Autism Awareness
● Provides a donor thank you gift that Luv Michael ships anywhere in the US
Share the Luv 1-2-3
1. The Virtual Volunteer learns about the problems facing autistic adults.
2. The Virtual Volunteer earns community service hours by running their own digital
donation page. They also learn to use state-of-the-art technology and social media to
spread the word about the cause and seek donations. The Virtual Volunteer can also
recruit a team of their friends to help share the luv and they will also get community
service hours.
3. The Luv Michael mission keeps going strong as we use the donations to provide
more opportunities for autistic adults. Are you a member of a team or club? You can
even have 50% of your donations benefit your organization!
We are currently seeking volunteers to advocate for Autism Acceptance. As a Luv Michael Volunteer you will earn nationally recognized community service hours completely virtually. You can earn 40 hours of community service in 2 weeks volunteering completely virtually.
For details about this opportunity, visit mailchi.mp.