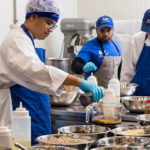 Website Luv Michael
Train, Educate, and Employ Autistic Adults.
The Luv Michael volunteer program is a grassroots, educational service learning program that is one part learning about autism, one part advocating for autism acceptance, and one part creating meaningful work. With volunteers across the world, our virtual service program allows for participation by any student who is service minded. Volunteers learn about autism, the challenges facing autistic adults, and our Luv Michael mission through multimedia resources. Volunteers take action and will advocate for autism acceptance by sharing their knowledge with others via digital outreach and in turn, help create meaningful work for autistic adults at Luv Michael.
For details about this opportunity, visit mailchi.mp.