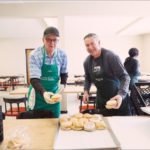 Website Long Beach Rescue Mission
Our doors are open 365 days a year, which means we need plenty of wonderful people (like you!) to step up.
With so many options – from serving meals or playing music to mentoring and tutoring the people in our New Life Program – you'll be acting as a helping hand to every single person who comes through our doors.