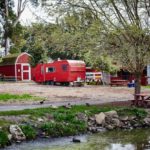 Website Loma Vista Farm
This is your opportunity to join the many volunteers who work hard to support Loma Vista Farm. Loma Vista Farm is looking for dedicated and hard-working volunteers to help us with our fund-raising events. We're looking for additional members to join our "Events Committee" team. This committee of community members is responsible for coordinating fund-raising events throughout the year that raise the money needed to fund Loma Vista Farm. If you have an interest, have the time and energy, or if you have experience in event planning, we welcome your involvement and support.
Volunteer Opportunities Abound
Care for Animals—year-round: Volunteers are needed to provide loving care for the many farm animals.
Care for Plants—year-round: Volunteers are needed to grow plants for education, nutrition, and sales.
Help with Field Trips—spring and fall: Volunteers are needed to help groups interact with plants and animals.
Building Maintenance/Construction—as needed: Volunteers are needed to repair or replace structures.
Help with Events—as needed: Volunteers are needed to help with special events, like the recent Harvest Festival.
Grant Proposal Writing/Fund-Raising—year-round: Volunteers are needed to help with financial sustainability of the program.
Artistic Sign Making—as needed: Volunteers are needed to make signs to inform and educate the public.
Choose any volunteer opportunity you would enjoy. Volunteer times are on a flexible schedule, and experience is not required but is helpful. You can volunteer according to your schedule, for example, once a week, once a month, or on an occasional basis. Helping with plants, animals, or field trips is during the weekdays. Occasional volunteer opportunities for plant and animal care are available on Saturdays.
Adult volunteers are especially needed.
A volunteer must be at least 14 years old to volunteer independently. Children under 14 may volunteer with a parent.