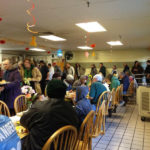 Website Loaves & Fishes Sacramento
IF YOU ARE A STUDENT (age 14 and over) and need to complete school community service hours, we have a weekend program available for you. You do not need to attend an orientation, however, you do need to sign up with the Volunteer Coordinator's Office in advance as we only take ten students per day on the weekend. Your work hours will be 7:00 AM until 12:45 PM. Jobs include food preparation, cleaning the dining room. Bring your paperwork with you so the Kitchen Manager can sign and validate your hours.
Remember, it is important that you arrive on time and prepared to work. Late arrivals will not be allowed to serve. Additionally, if you are being picked up, your transportation must arrive on time as well. Minors cannot be left alone to wait for rides, and this inconveniences staff greatly as they must wait if a minor's ride is delayed.