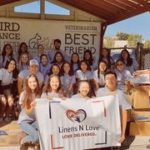 Website Linens N Love
Linens N Love is an internationally-recognized, award-winning 501(c)3 nonprofit organization co-founded by May and Vivian Wang, dedicated to collecting castoff hotel donations of blankets, sheets, pillows, and towels to donate to local shelters and charities in need. Since 2014, Linens N Love has been supporting animal shelters, homeless shelters, teen shelters, veteran's homes, and women's homes with over 20,000 linens donated over the past six years. We emphasize service-based leadership to create meaningful educational opportunities by training student leaders to coordinate their own deliveries. Students gain professional insight by communicating with hotel managers to request donations. Our student leaders manage to collect donations and coordinate with shelters for deliveries. To ensure each volunteer experience is unique and memorable, Linens N Love youth leaders go on tours of the shelter after unpacking, sorting, and transporting the donations, followed by a reflective session in the form of an article or question-and-answer session with volunteers or victims at the shelter. To learn more about Linens N Love and join the movement, please visit www.LinensNLove.org or email info@linensnlove.org today!
Completing this application does not ensure that your application will automatically be approved. To ensure success, we are asking you to nominate at least five officers if your application is approved.
Being the Chapter President of your Chapter includes:
– Mentorship from Linens N Love
– Training sessions and leadership seminars
– Earn 100+ service hours throughout your 2020-2021 term as a Chapter President
– Guided resources on how to make your volunteering mission possible
– Access to Linens N Love-funded miscellaneous privileges like T-shirts, events, and more!
– Professional networks with hotel contacts
– Boost your resume with dynamic training to help you hone in on your leadership skills
– Lead your own initiative to support homeless shelters, animal shelters, and women's homes
– Gain mentorship from university students
Please note that starting a Chapter at your school or in your local community is a large time commitment. Many of our current and previous Chapter Presidents have found their experience to be very rewarding as they have grown a lot from their experience and putting in several hours into growing their Chapter. This application process is a competitive process with several interested prospective Chapter Presidents.
Thank you!
Please visit and follow @LinensNLove on Instagram to stay updated on our leadership and volunteer events.
©️ Application content and questions created in 2018 and copyrighted by Linens N Love, 2020. All rights reserved.