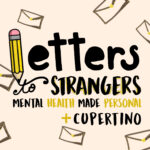 Website Letters to Strangers
Letters to Strangers Cupertino is looking for dedicated and passionate volunteers to assist our efforts to de-stigmatize mental health and foster an accepting environment for people to share their vulnerabilities. As an outreach manager, you would represent L2S Cupertino and help organize a letter exchange program wherein teenagers across California would send and receive letters from strangers!
For details about this opportunity, visit forms.gle.