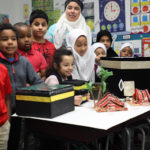 Legacy Center
The Legacy Center is a place where history, faith, and culture intertwine together in the most beautiful and unexpected way. We get to nurture this experience every day we serve.
As an Ambassador, you will join forces with one of the following teams:
Guest Services
Exhibit Attendants
Theater Attendants
Legends of Lightfall (Kids)
Guided Tours
Ambassador Support
These six teams create a family that will come together to help accomplish the Vision and Mission of the Legacy Center, while building unforgettable relationships.
Requirements:
Background Check
Must be at least 15
Orientation/Training
Weekly 3 hour shifts for 6 months

9:30am, 12pm, 2:30pm, 5pm