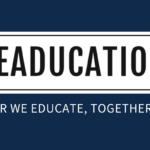 Website LEADucation
Together we educate, together we lead.
LEADucation is an educational organization that focuses on career development and professional skills courses for students who do not have those resources. Currently, we have a new program and volunteer opportunity where mentors can pick a leadership or career-building topic to teach a pre-recorded multiple day course on. This is a great opportunity to earn community service virtually from your home and make an impact on the education of underserved youth communities.
Applications for mentors are open to anyone! Courses can also be taught in groups if multiple people are interested in teaching the same topic together. Our mentors also gain great leadership and self-initiative skills as they work to develop their courses independently. It is a simple application to complete and the LEADucation team will help you throughout the whole course development process.
To apply, please visit our website at https://leaducation.org/become-a-mentor. You can find all the necessary information to apply there. To start, all you need to do is pick a career-building, professional skill, or real-world skill that you are passionate about teaching others about. From there, we have an outline to plan out your daily lessons. A course can be whatever length you feel fits. In order to increase the availability of these courses, courses will be formatted in recorded videos, either of just you or a slide deck including you. EVERY mentor applicant will be able to have the opportunity to make a course and join our team!