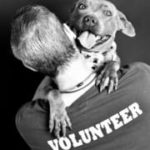 Website LA Animal Services
We have 6 locations throughout the LA metro area: Chatsworth, Lincoln Heights, San Pedro, South LA,Van Nuys and West LA
LA Animal Services (LAAS) is looking for volunteers who are committed, caring and responsible to truly make a difference in the lives of the abandoned and homeless animals in our care. We need friendly, outgoing and personable volunteers to assist the public and work with the staff in our six Animal Care Centers and at mobile adoption events.
Apply online: https://www.volgistics.com/ex/portal.dll/ap?ap=71176500
***Due to the Covid-19 pandemic, we are currently open to the public only by appointment, and we are not allowed to have volunteers in our facilities. It is still worth it to apply now, because you'll be first in line for orientations when we can re-open to volunteers***
YOUR WORK IS VALUED…AND VALUABLE Our volunteers make a huge difference in the lives of the animals in our care by providing them with love, exercise and socialization, introducing them to potential adopters, and by networking them to the public on social media.
NOT ENOUGH TIME? THERE ARE OTHER WAYS TO HELP!
Make a tax-deductible contribution: You can choose the Animal Welfare Trust Fund, The Spay/Neuter Trust Fund, or the Star Program, which helps pay for medical care for severely injured animals rescued by LA Animal Services. http://www.laanimalservices.com/donate/
Donate items for the animals: *** while we are only open by appointment during the Covid-19 pandemic, donations can still be left outside the shelter doors***
Towels and blankets (lots of them – new or used items are very welcome!)
Newspapers
Dog treats
Dog toys (including Kongs and Nylabones)
Cat treats
Royal Canin Mother and Baby food for underage kittens
Cat toys
Pee pads
Guinea pig, hamster and gerbil food
Hay (Timothy or Oat) for rabbits
Foster an animal in your home:
We are always looking for short or long-term fosters, including fosters who can bottle-feed underage puppies and kittens. Download the foster application at: http://www.laanimalservices.com/pdf/volunteer/foster_application.pdf
JOIN OUR TEAM AND HELP US CREATE A MORE HUMANE LA!