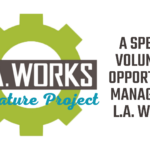 Website L.A. Works
Quick Overview: Join a team of volunteers to guide nonprofit organizations on how to reopen to volunteers as fully and quickly as possible, with the lowest levels of risk that are possible.
About L.A. Works: L.A. Works is Los Angeles' largest and longest running volunteer action center. In order to increase volunteer participation in the community, the L.A. Works team works with nonprofits, schools, and government social service agencies throughout greater Los Angeles to identify their needs and then to create and manage volunteer projects to address those needs. Helping non-profits incorporate volunteerism greatly increases their capacity to do their work, making organizations across the city stronger and increasing their ability to uplift all the citizens of LA that they serve.
Impact: Because of the COVID-19 pandemic, many nonprofits are facing increased demand for services. Volunteers are an important and necessary resource to be able to meet this demand. Help guide organizations with extending their safety plan to incorporate volunteers on-site.
Requirements:
• All volunteers will need to become familiar with L.A. Works' Volunteer Engagement Guide During COVID-19.
• Volunteers will need to participate in a one-time virtual training to prepare to nonprofit organizations throughout the community.
• Relevant medical and risk management knowledge a plus!
Volunteer Roles and Responsibilities:
• Coordinate with, communicate, and help implement public health guidelines.
• Work closely with the human relations and operations departments to develop and implement health plans.
• Ensure that existing safety plans are modified for compatibility with new health plans.
• Help create volunteer training that applies current information about hazards and infection control measures, including social distancing, handwashing, temperature checking, and disinfecting high-touch surfaces.
• Determine, in conjunction with organization, if a volunteer may safely enter the site when there is a health concern.
COVID-19 Precautions:
• All programming, volunteer engagement, trainings, and meetings that can be done virtually, will be carried out remotely.
• To participate in in-person programming, volunteers cannot have felt ill or been around anyone who felt ill within 2 weeks time.
• Masks required.
• 6 foot social distancing enforced.
REQUIREMENTS:
Age Minimum (with Adult): 12+, Minimum Age:16+