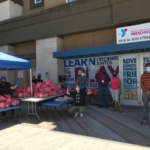 Ketchum Downtown YMCA Preschool
Help us receive, sort, and distribute food to children, and families in need. All safety and health measures are taken to ensure your well-being as we provide much-needed meals to our neighbors.
To ensure families have access to nutritious food and that students receive healthy breakfasts and lunches during school closures, the Ketchum Downtown YMCA has become a distribution center for "Grab & Go" meals. On Tuesdays and Fridays the YMCA is distributing pre-packaged shelf-stable meals, providing nutrition for multiple days, for all youth per household age 18 and under, on a first come, first served basis.