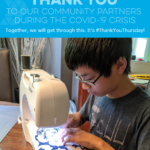 Jewish Family Service San Diego
Make a mask for our staff, volunteers, and clients!
All volunteer and paid staff working on onsite at any location must wear cloth facial protection. To ensure our staff and clients have access to protective personal equipment, we need your help in crafting homemade masks! The masks do not need to be hospital grade but should cover the nose and mouth. Homemade masks, bandannas, scarves and neck gaiters are acceptable since these items can be washed and reused. Check out how to make a mask with leftover material: https://www.healthline.com/health/how-to-make-a-mask-out-of-fabric
Or, if you're using a bandanna or thinner material, the suggestion is to fold it over a few times to create a thicker barrier. To do this, and secure a bandanna or scarf to your face, you can use rubber bands or hair ties. Please drop off the mask(s) to Jewish Family Service's main campus. Donation drop-off hours are from 2:00-4:00pm Monday-Friday at our Joan & Irwin Jacobs Campus (8804 Balboa Ave).