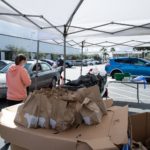 Jewish Family Service San Diego
Program:
Every night at four secured lots, Jewish Family Service operates a Safe Parking Program for unsheltered San Diegans living in their vehicles, many of whom are experiencing homelessness for the first time. A car is often a critical, final asset, allowing for transportation to work and school, access to services, and the ability to seek employment.
Access to food is always a challenge for our Safe Parking Program participants as they have to make daily decisions between gas, food, and even medicine with their limited resources.
Their basic nutrition needs have only increased since health orders have closed many local businesses and restaurants, reducing food resources. While nightly Safe Parking dinners continue to be provided by generous community donors, JFS has also secured bulk breakfast and lunch items to meet the daily needs of our Safe Parking clients.
Goal of Position:
With more food to distribute, we need more hands! This position entails packing the pre-purchased breakfast and lunch items into bags at our main campus, and then delivering them in the afternoon to our three San Diego City Safe Parking Program Lots.
The role will take place on Monday, Wednesday, and Friday each week. Shifts on Fridays will be longer, as we will also be packing food for the weekend.
Qualifications and Requirements:
Completion of HIPAA Level 1 (confidentiality waiver signed on site)
Strict adherence to Food Safety Protocols
Must provide own PPE (mask and gloves)
Details:
Duration: 2 hours
Time: 12:00-2:00pm (times may vary slightly)
Date: Monday and Friday
Task: Volunteers will assemble 200-300 bags of food
Location: Packaging at main campus (8804 Balboa Ave., San Diego, CA 92123)