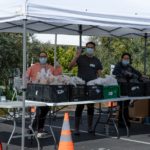 Jewish Family Service San Diego
*Safety Update*
To ensure Jewish Family Service (JFS) is creating the safest environment for our community, we ask that you cancel your volunteer shift if you are currently ill and/or have experienced any symptoms related to COVID-19 within the last 14-days.
Program:
The Hand Up Food Pantry believes in helping clients reach self-sufficiency by providing a 'hand up' not just a hand out to clients experiencing food-insecurity. They accomplish this by connecting clients to resources in addition to providing emergency food relief to 800 families each month at distributions throughout San Diego County. The Hillcrest Food Distribution serves a multitude of clients from various backgrounds and life circumstances.
Goal of Position:
Volunteers can help assist in a critical area of need and help alleviate hunger among Military families. Volunteers are not only able to gain valuable nonprofit experience but also learn about food insecurity and hunger in their local community. Volunteers who participate in the distributions can serve our lowest income clients who are experiencing food insecurity. Many of these clients lack housing and almost all are on a fixed income. We provide more than food assistance we provide smiles as well.
Responsibilities:
Unload box truck and set up shopping area in parking lot outdoors
Assist Food Pantry staff in running the client check in process
Bag produce and bread for distribution
Distribute food to clients
Educate clients on additional resources available to them
Answer client questions
Clean up parking lot and load box truck
Qualifications/Requirements:
Must be friendly, patient, and can develop and maintain good rapport with community members
Be able to life bins and boxes up to 25 pounds
Complete a confidentiality waiver
Wear closed-toed shoes and comfortable clothing that can get dirty
Must be a minimum of 13 years of age (Parental accompaniment strongly advised)
Time Commitment:
The Hillcrest distributions are from 12:30 pm – 3:15 pm on the 3rd Thursday of the month
Location:
Ohr Shalom at 2512 Third Avenue, 92103
*Volunteers must park on the street with limited parking