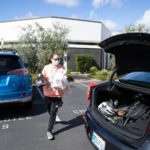 Jewish Family Service San Diego
*Safety Update*
To ensure Jewish Family Service (JFS) is creating the safest environment for our community, we ask that you cancel your volunteer shift if you are currently ill and/or have experienced any symptoms related to COVID-19 within the last 14-days.
Program:
The JFS Drive-Thru Food Distribution is open to all San Diegans in critical need of groceries during the COVID-19 pandemic. This no-contact food distribution happens M-F at our Joan & Irwin Jacobs Campus. Distribution bags are stocked with a variety of fresh produce, dried/canned goods, and other pantry staples (based on supplies). On average, the distribution serves 100-200 cars daily.
Goal of Position:
You will provide support for this no-contact, drive-through delivery! One aspect of the distribution opportunity is helping to assemble groceries and supplies, and the other aspect is handing out the bags to clients as they drive through. You will place items directly into clients' trunks as they drive through to eliminate contact.
*Individuals 13 -18 are able to volunteer with parent/guardian supervision.