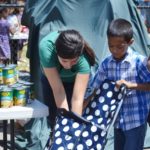 Jewish Family Service San Diego
**UPDATE**
In an effort to decrease the risk of COVID-19 on campus and in our community, we are increasing community distancing and sanitation efforts with our Food Distributions. Gloves and a mask will be required for this volunteer opportunity.
Volunteers cannot volunteer if they:
Are not healthy
Have experienced any symptoms in the last 14 days
Do not have a mask or gloves
Thank you for your time, efforts, and support. You truly are the heart of JFS!
Program:
The Hand Up Food Pantry believes in helping clients reach self-sufficiency by providing a 'hand up' not just a hand out to clients experiencing food-insecurity. They accomplish this by connecting clients to resources in addition to providing emergency food relief to 800 families each month at distributions throughout San Diego County. In the past year, the Hand Up Food Pantry has provided 8,969 clients with 310,000 meals. The Murphy Canyon Distribution serves military families who may not have many years of financial experience or the luxury of a dual income and fall into the lowest pay grades.
Goal of Position:
Volunteers are able to help assist in a critical area of need and help alleviate hunger among Military families. Volunteers are not only able to gain valuable nonprofit experience but also learn about food insecurity and hunger in their local community. We provide more than food assistance we provide smiles as well.
Responsibilities:
Assist Food Pantry staff in running the client check in process
Distribute tickets with numbers to clients in the order that they arrive
Distribute and assist clients with filling out intake forms and quarterly surveys
Help clients get organized by number
Check client military identification and record client's attendance
Educate clients on additional resources available to them
Answer client questions
Qualifications/Requirements:
Must be friendly, patient, and have the ability to develop and maintain good rapport with community members
Must have an interest in interacting with clients, volunteers, and staff
Must be at least 13 years old
Must be able to walk and stand for 2 hours
Time Commitment:
The Murphy Canyon distributions are from 1:30 pm – 3:30 pm on the 2nd Sunday of the month
Location:
Murphy Canyon Military Housing – Murphy Canyon Chapel – 3200 Santo Rd.