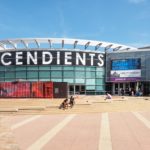 Website Japanese American National Museum
JANM presently is closed to the public but we are accepting application for our January 2021 new volunteer class.
Origami Docents are needed to assist in hands-on activities with school groups (elementary through high school). Training will be provided in a classroom setting for Museum orientation and Japanese American History PLUS training in the four official Museum origami pieces and a brief history of origami in America and how it relates to the museum's mission.
We are in in need of volunteers on Friday or Wednesday mornings (9:30 am to 1:30 pm).
Weekly (preferred) or twice per month
REQUIREMENTS:
Background Check
Must be at least 18
Orientation or Training
Weekly or twice a month. Mornings Tuesday, Wednesday, or Friday. Our greatest need is for Friday mornings.
11 hours of classroom training on the Museum and Japanese American History provided on Saturday mornings. Origami on-the-job training will be provided.