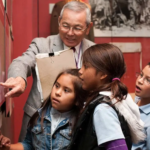 Website Japanese American National Museum
JANM presently is closed to the public but we are accepting application for our January 2021 new volunteer class.
We need weekday school tour facilitators!
Share the Japanese American story with our diverse audience of students grades 1-12 by
Facilitating interactive school group experiences of our core exhibition "Common Ground: The Heart of Community".
Crafting with students to create one of the Museum's four designated origami pieces
No museum or docent experience needed. Knowledge provided in both classroom settings and through active learning. Familiarity with Japanese American history is a plus but not required.
Volunteers needed for morning hour shifts of 4 hours on Fridays and Tuesdays. Average of eight volunteer hours per month requested.
Benefits? Yes! You'll have the opportunity to hear many unique and distinct stories of lives that together form the American experience. And nonstop learning opportunities offered through volunteer and staff led sessions, JANM public programs, and on-line resources.
Learn more online about our Group Visits ( http://www.janm.org/visit/ groups/) or write us at Volunteer@janm.org
REQUIREMENTS:
Background Check
Must be at least 16
Orientation or Training
average of 8 hours per month for 1 year
11.5 hours of classroom learning during a 6-month orientation & training period. All sessions on Saturday mornings. Additional tour-related training will be provided on-the-job.