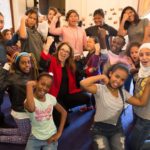 Website International Rescue Committee, Oakland
BACKGROUND
Founded in 1933, the International Rescue Committee is a leading non-sectarian non-profit organization providing emergency relief, protection, rehabilitation assistance, resettlement services, and advocacy for refugees and victims of oppression or violent conflict. The IRC responds to the world's worst humanitarian crises and helps people to survive and rebuild their lives. At work in over 40 countries and 29 U.S. cities to restore safety, dignity, and hope, the IRC leads the way from harm to home. This year, the IRC in Oakland will be resettling international refugees from Afghanistan, Burma, Eritrea, Syria, among others. Domestically, our 29 offices across the U.S. work with refugees to help them gain self-sufficiency and ensure new arrivals have food, shelter, and clothing.
PROGRAM DESCRIPTION
Oakland IRC's Economic Empowerment program supports clients in rebuilding their lives in the U.S. The IRC supports new arrivals find their first job in the U.S. through Early Employment Programs, which blend classroom job-readiness instruction and individualized employment case management in helping over 75 percent of enrolled cases successfully find employment within 6 months of arrival to the U.S. While clients are looking for a job, they simultaneously learn about the complex U.S. financial services system, receive help in establishing bank accounts, and can access consumer advocacy and financial coaching support from IRC Financial Counselors.
PURPOSE OF VOLUNTEER POSITION:
The Youth Volunteer will work closely with the ESL Volunteer in providing tutoring to IRC client's children. The volunteer will assist their assigned mentees through youth to youth tutoring and mentorship, under the supervision of an ESL Volunteer, IRC staff member, or the volunteer's parent or guardian. The volunteer may also be asked to provide child watch services for adult learners.
COMMITMENT:
· Minimum of 2 hours per week, once a week
RESPONSIBILITIES:
· Youth to youth homework tutoring (Math, writing, reading, journaling, etc.)
· Help young clients learn, review content with them, explain how to solve problems and checking completed work.
· Help young clients develop study skills and organization techniques to help improve their academic performance
· Serve as a role model/mentor for young clients
VOLUNTEER REQUIREMENTS:
· All youth volunteers must be between 15—18 years old
· Meet scheduled weekly commitment
· Perform all required tasks and functions
· Attend supervision as requested
VOLUNTEER QUALIFICATIONS:
We ask that candidates have the following qualities:
· Strong communication skills (both interpersonal and with supervisors)
· Possess great attention to detail and organizational skills
· Strong sense of personal initiative
· Computer literacy with PC systems and software
· Passion for working with children
· Experience working with multi-cultural populations
PREFERRED QUALIFICATIONS:
· Basic ability with elementary level school subjects
· Previous tutoring experience a plus
This position reports to the Economic Empowerment Instructor