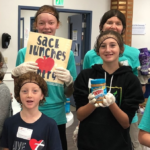 Interfaith Community Services
Food is our most basic human need, yet hundreds in North San Diego County are food insecure. You and your group can volunteer by preparing sack lunches to support our neighbors in need in their journey towards self-sufficiency. During the COVID-19 crisis, we are distributing more than double the amount of sack lunches each day than before. Interfaith is currently in need of meat and cheese sandwiches to pass out to our clients. Normally, we provide a hot meal for breakfast and a sack lunch to take "on the go", but we have our morning breakfast on pause to comply with social distancing rules. We are now passing out two lunches per person and meat and cheese sandwiches provide a substantial meal in addition to a PBJ lunch.
Here are a list of supplies needed:
•  Ham or turkey deli meat (no condiments on the sandwich as it makes it soggy, but feel free to add condiment packets)
•  Cheese slices (cheddar, Swizz, etc.)
•  Bread
•  Fruit such as oranges, apples, applesauce
•  Snacks such as chips, trail mix, granola bar, Goldfish, etc.
•  Sandwich Ziploc bags
•  Brown sack lunches
A good number of lunches would be 100, but we will gladly accept however many lunches your group makes! You can build them at home in a clean and disinfected environment with everyone practicing proper hygiene guidelines such as wearing hairnets, washing hands, and wearing gloves.