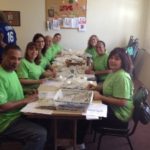 Website Inland Valley Hope Partners'
On the 2nd Tuesday of EVERY Month, Inland Valley Hope Partners Assembles & Mails its Monthly Newsletter. Some 1700 Newsletters are sent to communities, organizations and local vendors, who like you, Support the Mission of Inland Valley Hope Partners! Since 1968 that Mission is to Feed the Hungry and Shelter the Homeless. We urge your involvement today. Please consider giving us a few hours, 1 day a month! Where: 1753 N. Park Avenue, Pomona, CA (Rm 23) Behind CVS & Smart & Final.
Time: 2nd Tuesday of each month 9am-12pm.
For more info contact the Volunteer Coordinator (909) 622-3806 x#108 or email: vcoordinator@inlandvalleyhopepartners.org Please provide a contact number. Thank you for contacting us and have a blessed day!