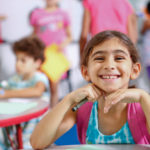 Website Inland Empire United Way
Are you looking for a volunteer opportunity to give back to the community during these unprecedented times? Are you looking for something you can work on with the whole family? Do you still want to make a difference in your community from your home?
Inland Empire United Way is looking for volunteers that are able to make care packages at home for the children and families that we serve. Now more than ever, children and families are in need of vital school supplies. We are looking for volunteers that are willing to create school supply care packages low-income students in our community. This is especially important for students and families that lack resources and structural support for educating their children. Your care packages will provide someone with much needed supplies and remind them that someone is thinking about them during these times.
Get together with your family, decorate a clean, new shoe box, plastic tote, ZipLoc bag, or reusable tote and fill it with much needed items such as pencils, black and blue pens, highlighters, markers, crayons, and more. Then connect with Crystal Lam at clam@ieuw.org to schedule a curbside drop off so that we can get these supplies out to the students who need them.
This is a great project for the whole family, for students who still need to complete their community service hours, or people who want to stay safe inside while still supporting our community. Please contact Crystal Lam at clam@ieuw.org with any questions.
Thank you!
REQUIREMENTS:
Driver's License Needed
Must be at least 11