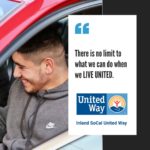 Website Inland Empire United Way
We are open to volunteers that are able to drive and if they have parents willing to participate with them.
We're currently in need of volunteer drivers to deliver food for low-income families and seniors in our community. Many of these folks are not able to leave their home and are in need of emergency food. We have partnered with Community Action Partnership of San Bernardino County to provide emergency pantry boxes to help sustain these families as they get through a difficult time. As a volunteer driver, your responsibilities will include: driving your own insured vehicle to our office in Rancho Cucamonga, picking up the emergency food, drive your assigned route, and drop off the emergency food box. We are completely contactless, so when you drop off the food you will have no interaction with the families or individuals to ensure your safety. You can choose a time and route that is most convenient for you. We will provide all PPE if you are in need of it. Please let us know if you need PPE and supplies.
If you are interested, please email me for a waiver, fill it out, and email it back to me. Thank you so much.