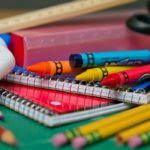 Website Inland Empire United Way
If you are interested in creating a School Tools care package with your family and donating school supplies, we have documented some items and ideas for your care packages. We definitely do not want you to go out and purchase items for the care package if you do not feel comfortable. Your safety and health is our top priority. However, if you have any of these extra items laying around, you can create a small care package within a nice, clean, decorated shoebox or plastic tote. We are currently collecting school supplies for local students in our community.
Our School Tools program is currently in high need of basic school supplies such as pencils, pens, markers, scissors, crayons, colored pencils and more. Our School Tools program serves 84,000 students in low-income schools in the Valley and Desert Community region by providing local teachers with up to $1,000 worth of brand new school supplies from our Teacher Resource Center. 150 low-income schools in our region are eligible for the program and we have served almost 2,800 teachers this past year. Teachers "shop" for pencils, pens, markers, art supplies, and more in our Teacher Resource Center. By creating a School Tools care package, you will be directly supporting teachers and students in our community by providing them with much needed school supplies through our School Tools program.
Here are some guidelines we have for you:
All school supplies must be brand new, unused, and unopened.
You may utilize and decorate a plastic tote, a sturdy cardboard box such as a delivery box from Amazon, a canvas reusable bag, etc.
Please feel free to include a card or inspiring, kind message. We ask that if you do include a message that it be nonreligious.
Example: "We will get through this together!" "Wishing you happiness and health!"
Any items to create a care package and some joy in a family's life are appreciated. If you decide to create a care package, please let me know. From there, we can work together to schedule a date and time for you to drop off the care package at our office in Rancho Cucamonga. Our office is currently closed to the public, so we will have to work together to schedule a drop off appointment time. It will be a contactless, curbside drop off. You will leave the packages at our front door and I will come grab the package and make sure it gets out to someone in need. We are located at 9624 Hermosa Avenue, Rancho Cucamonga, CA 91730.
If you have questions, feel free to reach out by calling 909.980.2857 x 243 or texting my work text line at 951.376.3667. Thank you so much. We appreciate your hard work in making this happen for our community!