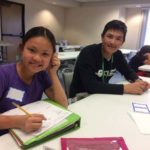 Huntington Beach Central Library
For teen volunteer questions, please contact Christany Edwards at 714-375-5110 or christany.edwards@surfcity-hb.org.
Online Volunteer Opportunities
Need service hours? Teen volunteers between the ages of 13 and 17 may apply to assist with the following online opportunities:
HB Teens Book Review Blogger – join the staff of the HB Teens Book Blogand submit reviews on the books you are already reading! Book bloggers earn one hour of service credit for each review they successfully submit. To learn more about this opportunity, please check out our blog's FAQ page.
Teen Advisory Group Team – teens may also request to join the Teen Advisory Group (or TAG), a passionate and friendly group of teens who assist the Teen Librarian with developing and running programs for their fellow teens! TAG staff are responsible for sharing their ideas on how to make the library – and the library's online spaces – better for teens in our community, and earn service credit for attending monthly meetings to share their thoughts, making decisions in developing programs, creating surveys for their fellow teens, and taking initiative to run their own library programs with the support of the Teen Librarian. Our TAG team is currently helping to run a variety of fun online programs for teens like karaoke nights, online Super Smash Bros tournaments, weekly drawing activities, and even a virtual open mic night!
The TAG meets online through our HBPL TeenSpace Discord server. Meetings are typically held on the second Saturday of every month, but additional online meetings or input may be requested through Discord on an as-needed basis. To apply to become a Teen Advisory Group member, please follow the instructions below.
If these opportunities sound interesting to you, please fill out an online volunteer application and email it to Christany, our Teen Librarian, at Christany.edwards@surfcity-hb.org.