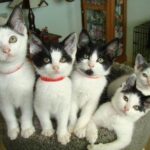 Website Humanimal Connection
Volunteer and Help Save Lives By:
Helping to care for our adoptable cats/kittens at our adoption centers: Petco at 520 Woodside Road in Redwood City. Volunteers help in our morning & evening shifts to clean cages and socialize with the cats and kittens.
Assistance at adoption fairs (occasional Saturdays) and helping to find forever homes for our cats and kittens.
Fostering cats or kittens in your home that require either socialization or, in the case of a baby kitten… care until ready to go to an adoption center.
Help to feed at a small feral cat colony in Portola Valley (feeding takes approximately 15 minutes and is done once a day).
Help sanitize carriers and cages so our kittens can stay healthy and happy (as per the volunteer's availability).
Transportation of our cats to/from adoption fairs and medical appointments (5-10 miles)
Distribution and maintenance of flyers/posters and other media/ Other administrative tasks.