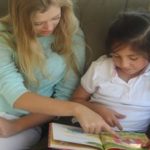 Website Hope Solutions
Hope Solutions, formerly known as Contra Costa Interfaith Housing, believes that education provides the path out of poverty and homelessness. Two hours a day, volunteer tutors work with formerly homeless and/or poverty-impacted children in need of help with their homework and school projects.
Onsite academic coordinators work with volunteers to maximize their effectiveness. Since the children's school performance is monitored very closely, staff and volunteers are able to provide ongoing assistance in meeting the student's academic needs. Hope Solutions' volunteer pool is diverse, including mature high school students, retirees and working professionals.
Volunteers need to be able to be available one day a week, Monday through Thursday, 3-5:30PM for the duration of the school year. Volunteers should be mature, enthusiastic, dependable, patient, flexible and independent. Experience in working with youth as well as tutoring reading and math is and understanding of the Spanish language is a plus (but not required). Adult volunteers need to pass a criminal background check and TB test.
You must be at least 15 years old to volunteer.
Apply here: https://www.hopesolutions.org/volunteer/