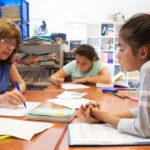 Website Homework Central
Updates (3/9/21): Our program has changed to virtual tutoring since school started in September. We are still actively seeking more volunteers who can commit 1-2 hours per week through the remainder of the school year.
Our volunteers make the work of Homework Central possible. We rely on them to help students with their homework, engage them in skill building exercises and enrichment activities, and to be there for them when the work gets too hard or to celebrate their accomplishments. Consistency, patience, and caring are what make the difference for kids who are struggling in school.
Although our program this fall looks a little different, our volunteers are essential partners. In the new norm of distance learning, we will continue to serve our students via one-on-one Google Meet sessions.
Can you spare one hour per week?
If you have an hour a week you have the ability to make a difference for a 3rd-, 4th-, or 5th-grade student who needs help with school work. If you can commit to two hours, that's double the impact. All sessions are virtual, conducted from the safety of your home for the duration of remote learning.
Volunteer requirements
Must have a love of children, patience, and a desire to help others.
Access to reliable internet and a device with a camera, microphone, and screen share.
Comfortable with technology troubleshooting, g suite-calendar, email, meeting, willingness to learn online tutoring tools.
Comfortable demonstrating work on paper or whiteboard.
Because relationship-building is critical to effectively working with young students, must be able to commit a minimum of 1 hour a week for a minimum of one month.
Minimum age is 15 (High School) and we would be happy to sign off on community service hours as needed
Anyone over the age of 18 must complete a LifeScan background check.
On-site tutors must complete TB test clearance.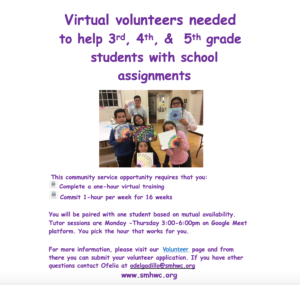 For details about this opportunity, visit smhwc.org.