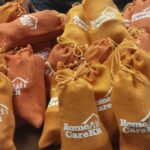 Website HomeAid Orange County
HomeAid CareKits are small bags filled with items for those experiencing homelessness on Orange County streets. CareKits include a handful of items such as food, water, and a housing resource information card.
HomeAid encourages you to keep CareKits in an easy to access location, such as your car, This way, it's easy to give a helping hand to people experiencing homelessness.
Want to get involved? Contact Natasha at natasha@homeaidoc.org