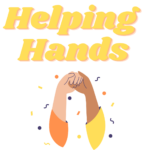 Website Helping Hands
The mission of Helping Hands is to help the most vulnerable members in our communities through various virtual community projects while providing a platform for youth leadership. They want to help the elderly, the homeless, the incarcerated, and other groups of people who are often overlooked in mainstream media. Every couple of months, they pick a new underrepresented group to focus and raise awareness about. Right now we they sending cards to the elders, and next they will be raising money for children of incarcerated parents!
By becoming a member, you will be able to participate in their projects and spread awareness about their cause (helping the vulnerable.) For example, you will send cards to the elderly or raise money for charities that help prisoners. Many of these projects will be organized through online communication, so if you do not go to their high school, you do not have to "physically" join!