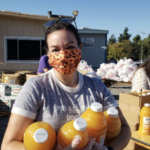 Website Heaven's Window
Heaven's Windows needs your help slicing, cutting, and prepping our fresh fruit for our Child Nutrition Program. Our kitchen prep days include making sandwiches, wraps, salads, and dips. Our volunteer opportunities are flexible to meet your needs, so you can volunteer within any time during our operating time frames. There are no time or day requirements. We provide you with documentation of hours served upon your request.
Requirements:
For details about this opportunity, visit signup.com.