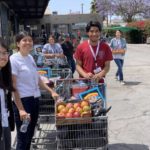 Website Heart of Compassion Food Distribution
In the midst of the current economic crisis, more families in our local community are needing extra assistance. There is a tremendous need for groceries and other essentials, but mostly for hope. Heart of Compassion is continuously Fighting Hunger and Feeding Hope and we need your help!
We do allow those 14 years old and older volunteer with us, as long as they are accompanied by an adult if they are a minor
Join us to fight the war on hunger by being a volunteer during our Tuesday and Wednesday Public Food Distributions.
We need kind-hearted people like you to:
Register our guests, load shopping carts, control traffic, or load our guests vehicles.
Volunteer Days and Times:
Tuesday 8:30am-1:00pm
Wednesday 8:30am-1:00pm