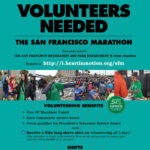 Website Heart in Motion
Promoting volunteerism and leadership development in youth
The San Francisco Marathon is a loop course. The race starts and finishes on the Embarcadero near the Ferry Building, traversing San Francisco. We need your help at the Finish Line.
Proceeds benefit several charities such as San Francisco Recreation and Park Department, USA Track & Field, North Bay Fire Relief and many more.
Each volunteer will receive a commemorative T-shirt, and our heartfelt thanks.
FINISH LINE SHIFT
The Embarcadero & Folsom Street
Finish Line Food – Make sure runners receive food and fluids after they cross the finish line
Gear Check – Help athletes retrieve their bags
Heat Sheets – Pass out heat sheets to warm up runners after they cross the finish line
Medals – Help greet and award runners with their finishers medals. Congratulate them on their amazing accomplishment too!
Timers – Help log the runner's time
Water Station – Pass out water and sports drink
Register at https://i.heartinmotion.org/sfm