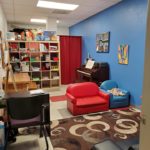 Website Hannah's House
CRAFTY Volunteers: Donate materials for and prepare individual "Craft" bags that children can use when they participate in the Supervised Visitation and Safe Exchange program at Hannah's House. Also seamstresses who can donate material for and sew personal "Visitation" bags.
Donation Drives Volunteer: Conduct neighborhood drives for most needed goods for Hannah's House. Current needs list can be discussed with the volunteer.
Fund Development Volunteer: Assist with fundraising by researching and writing Grants.
Housekeeping Volunteer: Keeping it Tidy! Hannah's House is a high traffic non-profit organization in need of some general housekeeping help. Shift times are between 11am and 5pm on weekdays,between 8am and 12pm on weekends and also from 6pm-8pm on weekends. We primarily need vacuuming, dusting, moping, wiping and organizing our facility. Volunteers should have ability to commit to at least one shift per week for 6 months of volunteer service.