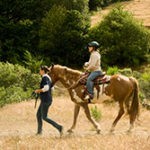 Website Halleck Creek Ranch
Since 1977, Halleck Creek Ranch has helped people live a life without barriers through therapeutic horseback riding. While our ranch is currently closed to all non-essential workers (including volunteers) we are continuing with the on-boarding process for new volunteers in the interim to ensure we have prepared helping hands as soon as our gates open again!
Our facility sits on a beautiful 60 acre ranch in West Marin. We are always looking for handy people who can assist us in caring for our herd and property, doing anything from gardening and paddock maintenance, to tree trimming and construction projects. If you are interested, please contact Sara at (415) 662-2488 or vc@halleckcreekranch.org.
You must be at least 16 years old.