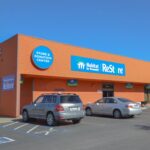 Website HabitatEBSV Habitat for Humanity East Bay/Silicon Valley
Concord ReStore needs your help! Come volunteer with us!
We are reopened and accepting volunteers with new health and safety protocols in place. We will be practicing social distancing as well as heightened cleaning procedures. You will be expected to wear a face mask at all times, maintain at least 6 feet of distance between yourself and others, and join Habitat staff and volunteers in heightened cleaning of the tools and site. For more information about our volunteer health & safety guidelines, visit https://www.habitatebsv.org/health-and-safety.
The ReStore is an important part of Habitat for Humanity! The ReStore is a store that accepts donations of new and gently used items from individuals and businesses in the community, and sells those items to the public at a reduced cost, usually 50-70 percent of the original retail value. All proceeds go toward building Habitat homes in the Bay Area.
Typical duties include helping with store organization and retail inventory, cleaning and organizing, unloading donations from our truck, and helping customers with their purchases.
For safety reasons, all volunteers must be at least 16 years old. Volunteers younger than 18 must bring a signed minor waiver form with them to the site. Minor waiver forms are available at https://www.habitatebsv.org/hubfs/PDFs/Get%20Involved/2021%20Minor%20Waiver.pdf